Testimony
The Office on Violence Against Women extends a special thank you to all of the Tribal Leaders who wish to present at the 18th Annual Government-to-Government Violence Against Women Tribal Consultation, which will be held at the River Spirit Casino in Tulsa, Oklahoma between August 8-10, 2023.
If you are a non-elected/appointed tribal leader wanting to submit testimony, you must submit either an authorizing resolution from your Tribal Council or a letter from the Tribal Chairman authorizing you to offer testimony on behalf of your tribe.
Tribal Leaders must be from a Federally Recognized Tribe.
There will be three opportunities for Tribal Leaders to provide testimony.
Pre-recorded Testimony (with assistance provided by Chickasaw Speaker Management)
Oral Testimony (In person)
Written Testimony
Testimony submission details are provided to all Tribal Leaders and delegates who select that they would like to provide testimony within the registration process.Note: Written testimony is due by Monday, September 11, 2023.
If you have any questions or need assistance, please send an email to:
tribalconsultationsupport@chickasaw.com
.
Testimony ToolKit
Recording Notice: Portions of this consultation will be recorded for the purpose of technical quality assurances. In the event of any technical failure, the recordings will serve as a backup source for the written summary to be presented to the U.S. Department of Justice Office on Violence Against Women.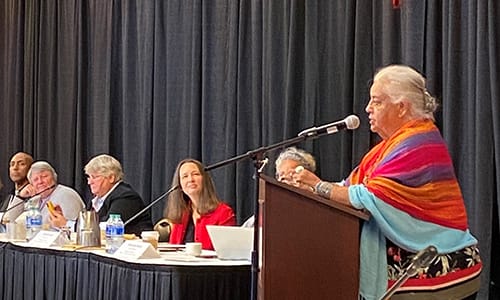 Event Details
August 8-10, 2023
Tulsa, OK
Stay Updated
Sign Up Now