Venue & Travel
Venue Details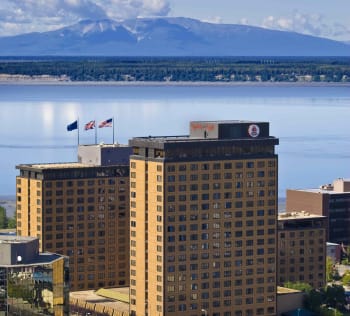 Hotel Captain Cook
939 West 5th Avenue
Anchorage, AK 99501
E-mail:
info@captaincook.com
Phone:
800-843-1950
Reservation Code: DOJ22
Visit Website
Notice to OVW Tribal Affairs Division Grantees: Per Sherriann C. Moore, OVW Deputy Director for Tribal Affairs, OVW Tribal Governments Program, Tribal Jurisdictions Program, Tribal Sexual Assault Services (TSASP) Program, Tribal SAUSA Program, and Tribal Coalitions Program grantees are authorized to support travel costs for up to five (5) persons to attend the "17th Annual Government-to-Government VAW Tribal Consultation", utilizing grant funds, without prior approval from their Program Manager. No Grant Award Modification (GAM) submission in JustGrants is required. Grantees should ensure sufficient travel funds remain in their budget to cover the costs of grant program required training, and keep a copy of this notice in their grant file for audit purposes.
State Hotel Tax Policy
Visit
https://www.gsa.gov/travel/plan-book/state-tax-exemption-information-for-government-charge-cards#/state/alaska
for information.
Hotel Reservations
To reserve a room, call the hotel at 800-843-1950.
The hotel room block is closed but you may still reserve a hotel room at the negotiated rate based on availability. If no rooms are available, you may reach out to the Marriott Anchorage Downtown. For more information about the Marriott, click
here
.
For additional downtown hotels, Click
here
. If you click on "Show Map", next to View, you will see each location in proximity to the Hotel Captain Cook.
Hotel Amenities
Centralized air conditioning
Ceiling fan and windows that open
Blackout drapes
In-room safe
Complimentary Wi-Fi
Hypoallergenic bedding available upon request
Access to the Athletic Clubs
Travel Details
Parking Information
Diamond Parking
Discounted Rate for Conference Attendees - $15 per day (Surface Parking)
The discounted rate of $15 for 24hrs will only be available via PaybyPhone.
Attendees should download the app and get familiar prior to your arrival
https://www.paybyphone.com/
.
The discount will be for both lots on 5th Ave between K & L St (Pay by Phone codes #10957 & 10963).
Rate for Garage Parking is $30 per day.
In & out fees will be applied.
View Parking Map
Transportation Resources
The hotel is 10 minutes from the airport. Shuttle service, Uber/Lyft, and Taxis are available. The taxi cost is approximately $25. Taxis can be found outside of baggage claim.
For shuttle service information, Click
Here
.
Airport Information
Ted Stevens Anchorage International Airport (ANC)
5000 W International Airport Road
Anchorage, AK 99502
Phone:
(907) 266-2526
Distance from Hotel:
4.8 miles